Insurance Claims/Storm Damage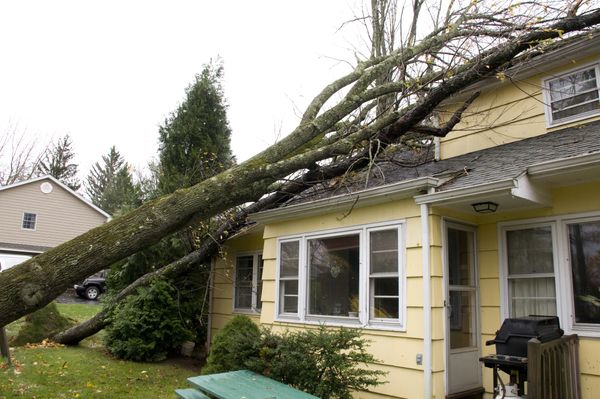 Even minor roof repairs can be covered by insurance given the right circumstances. When it comes to storm damage, we can help our clients with the filing of any claims, ensuring that your roof repair is handled in a timely manner. Getting your roof back to its most functional state, we strive to protect your home, assets, and family from the dangers of a compromised roofing system.
As one of the premier roofing contractors in the state of Ohio, we've seen just about all types of weather systems rip into what seemed like fairly solid roofing structures, leading to upwards of hundreds of thousands of dollars in damage. In the case of storms, not only is the roof itself damaged, but personal property and business assets can often destroyed by extreme weather.
Hinkle Roofing understands that roofing insurance and emergency aid are often necessary to use in these situations, so we promise a prompt, friendly, and professional response, taking care to protect your roofing and your property from further damage.
Through impeccable installation processes and techniques, our expert team of roofing experts aims to repair, rebuild, or replace any element of your roofing system, making sure it holds up against the wind, heavy rain, hail, and snow as effectively as possible.
We happily work directly with your insurance company, handling the claim process in order to help relieve at least some of the stress that comes with handling a crisis such as storm damage.
Discover why so many of your friends, neighbors and competitors prefer HinkleRoofing by calling for your free storm damage assessment and estimate now.
"I have worked with Jim Hinkle and Hinkle & Van Dine Roofing for years. I used them to replace the roof on my own home and it looks beautiful! I have also worked with this company on many insurance claims through my agency. The clients have been very pleased with the finished product! Jim is very responsive and contacts clients immediately when asked."
Corey Vaughn
Producer, Hamler-Gingrich Business & Personal Insurance
"I have worked with Hinkle & Van Dine Roofing on various roof repair/replacement projects. In addition, I have used them for roof repair/replacement on my own property. Jim Hinkle is fair, honest and reliable. He has a respected reputation as a roofing contractor'"
Philip Cox
Royal Crest Properties, LLC