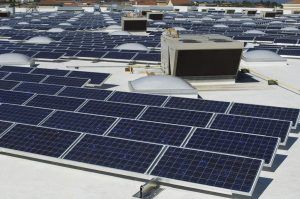 Ready and equipped to provide emergency commercial roof repair when needed, Hinkle and Van Dine's team of master roof contractors are just a phone call away. With some of the fastest response times in the industry, we promise prompt and friendly service for our clients, seven days a week. We are also happy to work with your insurance company, making your claim free of stress and frustration.
Working to repair a variety of roofing systems by using factory-approved techniques and materials, we strive to maintain and protect the manufacturer's warranty. Providing you with a full and detailed analysis of the your roof's condition, we work with unquestionable integrity and complete transparency.
As further testament to our dedication to unparalleled customer service, we are happy to perform routine maintenance during your commercial roofing repair, solidifying the long-term strength and reliability of your commercial roof.
Preserving the strength and integrity of your roof is our first priority, and all of our preventive and repair measures are meant to ensure the safety of anyone who walks into your facility. If you notice any signs of roof damage, including water stains, noticeable wall cracks, peeling paint or curling shingles, call the Hinkle team of roofing experts today. We provide all of our commercial customers free estimates and consultations.