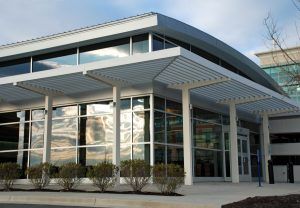 Hinkle Roofing is an experienced and knowledgeable commercial roofing contractor based in Dayton and Columbus, Ohio. When replacing or installing a new roof on a commercial facility, it's important to choose a contractor that understands the unique challenges that come with this type of roofing. Hinkle Roofing has the experience and knowledge necessary to ensure total satisfaction and structural integrity. No matter the size of the commercial facility, their team of professionals will provide an exceptional roofing experience.
With more than 30 years of experience in the roofing industry, our expertise is unparalleled. Working with a variety of roofing styles, types, and materials, our team strives to ensure that each commercial roofing project is completed on time and within budget.
Keeping building codes as standard, our installation techniques and use of superior materials actually exceed local codes and the expectations of even our most discerning customer. From metal roofs to flat roofs, taking into concern all of the building elements of the facility itself, we are both recognized and respected throughout the industry for our commitment to quality excellence.
Contact our commercial roofing team now for a free estimate and planning consultation.